Are you looking for Plastic Mould making from China?:
Building precision plastic moulds, plastic injection molds and Die-Casting mould from China for our global customers continues to be LK-Mould Dongguan core business. The ability to produce molds at the highest international standard, strong engineering and design capability, fluent English communication skill, aggressive lead times, competitive pricing and business integrity continues to be the success factor of LK-Mould , Especially when it comes to details of every mould like as O-ring groove, thread and chamfer etc. to ensure a perfect look and function!
Production of Plastic Moulds:
We process orders of international customers in the area of mold making, plastic molds of China, not only in large quantities but also in a short time. For the production of plastic molds China, we use small and large machines to produce state-of-the-art plastic injection molds. In the manufacturing process we can rely on many different materials such as thermoplastics, thermosetting polymers, metals and glass.
Plastic Moulds
Plastic Moulding
We deliver worldwide.
Our sales-team
will assist
you with your request.
FAQ:
Ever wondered how plastic is moulded into the exceptionally useful things that we employ in our daily life? Is it as simple as melting plastic and lathering the sides of a mould with it and cooling it? The answer, actually, is no. Moulding plastic is a little more complex than that. Plastic mold is made using a process often called plastic injection moulding.
What is this type of moulding?
Plastic injection moulding is the method of manufacturing parts made of thermoplastic and thermosetting plastic by melting and forcing into moulds where they cool to form the desired object.
Plastic moulding China is the process of shaping plastic using a rigid frame or mould. The technique allows for the creation of objects of all shapes and sizes with huge design..
How does plastic injection moulding work?
The process of plastic injection moulding usually begins with an industrial designer or engineer who designs a product. This is followed up by the work of a toolmaker or mould maker who makes the mould to fit the design created. These moulds are metallic and usually made using either steel or aluminum. Using machines, they are made to acquire the exact shape desired by the design. Once this is done, the process of actually making the plastic follows. This involves thermoplastic and thermosetting plastic being fed into a heated barrel and mixed. This melted material is then forced into the cavity of a mould and there it cools and hardens to form the desired part.
What are the characteristics of the process?
1. It uses melted and mixed thermoplastic or thermoset plastic as base
2. It uses a plunger which acts like a screw or a ram to force the melted material in the plastic mould
3. It makes a shape that is open-ended and has taken the shape of the cavity of the mould
4. It shows a parting line and gate marks on the finished products and the ejector pin marks can also usually be made out
What advantages does this type of moulding have?
1. The production rate is very high and therefore mass production is much benefitted
2. Since tolerance levels are high, they can be repeated
3. The labour cost is very low
4. The losses in scrap are very minimal
5. The products require very minimal finishing
6. A wide range of materials can be used
GETTING A QUOTE WITH LK-MOULD IS FREE AND SIMPLE.
TRY IT TODAY:
Find more of our Services: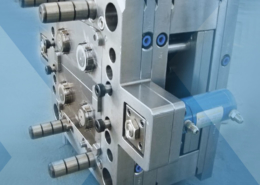 Injection moulding parts and injection tools. Full solutions from design to production.